John Wilkes Booth - Sic Semper Tyrannis
2008 Bukkake Orange
Ray Van Horn, Jr.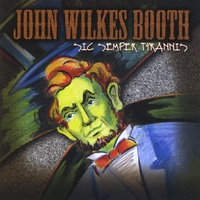 Persistence gets my attention eventually and suffice it to say after being contacted a few times by vocalist Kerry Merkle of the grime punk band John Wilkes Booth, The Metal Minute happily accepted a copy of his band's remarkably solid full-length debut Sic Semper Tyrannis.

What do I like most about John Wilkes Booth? I'm referring to the band, of course, because the actual living Booth was a crybaby fop who couldn't accept the fact his homeland army (brillianly led as the Confederacy was) was doomed from the start. Wherever your sympathies lie, the South lost due to an inept quasi-president and moreover, the lack of a sustainable economy, particularly one unable to keep its otherwise formidable infantry properly clothed and fed. Of course, a hedonistic total warfare executioner like Sherman planted the premature headstone with his first order to set fire to Southern cities. Interesting to think if the South won the war or at least forced a stalemate, because the future would've been more explosive than it already was (nobody would've wanted to set foot past the Virginia border in the sixties, trust me). Assuredly one John Wilkes Booth would've had no reason to drill a bullet into Abraham Lincoln out of spiteful vengeance for a lost cause. What then, on the plotline of history?

Would we then have had John Wilkes Booth the band? Maybe, but they probably would've been known as John Hinckley, as in the would-be snuffer of Ronald Reagan. As a punk rock band at their core, John Wilkes Booth under said alter ego would've thus swiped the standard from the Dead Kennedys for most uncomfortably amusing political potshot ever. Funny to think that no band named John Hinckley cropped up during the eighties since Reagan (along with British prime minister Margaret Thatcher) had punk rock's biggest heat seeking bullseye taped to his back. Guess we'll settle for a later-year punk act that has enough tact to dismiss our current president who's already digging forked tongues out of his hopeless keister and dip back more than a century to derive a brazen namesake. To boot, John Wilkes Booth throws a party on the tab of their figurehead, participating in "punk rock pillowfight" shows and coralling a slew of ridiculously funny caricatures such as this one:



Booth snakes out Statler and Waldorf (Photo courtesy of JWB MySpace page)

Not that John Wilkes Booth is bluntly political in their business. In fact, there's almost no proselitizing or soapboxing to John Wilkes Booth's snub-nosed "dirt rock," as they call it. In essence, this Long Island quartet possesses the inherent attitude and snide chicanery of punk and garage rock culminated from an eighties versus nineties hodgepodge: Mudhoney to Nirvana to JFA to Black Flag to Kyuss to the Melvins.

As Sic Semper Tyrannis opens with the instantly gratifying stomper "Eye Rack," John Wilkes Booth establishes out the gate they're a smart bunch of musicians and not gimmicky cellar dwellers clad in faux politburo pants. These guys can play quite well on punchy songs like the Helmet-dashed "Breathing for No Reason" and the jam whirlwind that unravels coolly and hazily for six minutes on "Albino Mechanic." There's even some smuggled funk sludge ala Clutch ("The Inner Workings" for example) and an almost hilarious merge between Black Flag and Monster Magnet on "Rats In My Room."

Frequently clever, John Wilkes Booth utilizes a jazz-type of drum solo from Christian Horstmann to lead into the anxiety-laden "Only the Facts," which employs a similar razor-dragging-across-the-proverbial-vein effect that Steve Austin does as a speciality in Today is the Day. "Only the Facts" is sharply-written and it pays off in dividends with scraping riffs from Jason Beickert, clobbering beats and dosed wailing from Kerry Merkle. Ditto for the subsequent snarling ditty "The Jesus Song," which needles out strains of Clutch, Skrape and The Melvins.



Dare ya not to laugh... (Photo courtesy of JWB MySpace page)

Included on Sic Semper Tyrannis is John Wilkes Booth's four song EP, which has only maybe a difference in fidelity, but is an equally exciting announcement of a rapidly-developing band you're likely missing out on. For these guys to sound this hot on their own duckets only means one of two things: a record contract is going to make them legendary or it's going to turn a potentially great band into a smoldering ash of its former self (the once-vibrant Quicksand comes to mind in that respect).

Still, you get the feeling that John Wilkes Booth will take their sweet time getting along whatever road they seek to travel. These guys watchdog the scene as much as they cheekily rip apart Lincoln and his mustachioed assassin. Pay-to-play venues beware; this John Wilkes Booth is equally sniper-minded.

Rating: ****

Links: MySpace page: John Wilkes Booth MySpace Page Website: John Wilkes Booth website