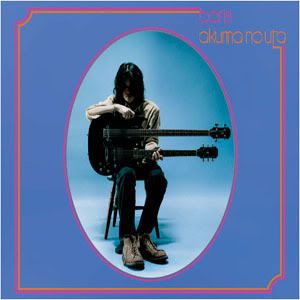 Normally I yawn when artists borrow or gratuitously steal from the past. Often the technique of cleverly-disguised "homage" is blatant huckstering designed to tag one demographic outside of its core audience and hence, broaden the sales capacity. On the other hand, one might argue such a plot simply bridges generation gaps.

In the case of Boris' Akuma No Uta, there's something resplendent in their hike of the cover art from Nick Drake's immortal Bryter Layter. Were Boris not supreme musicians in their own right, this album cover would be near-blasphemy. It helps Boris' fuzzy bliss is well-rooted in the early-to-mid seventies, yet for them to choose an album best known for quietude instead of amplification, you have to admire their moxy.

Takeshi's hair-dumped, swaggering posture with his double-neck Ibanez visually issues Boris' mission statement on Akuma No Uta. Counter to Nick Drake's shadowed facade and leering slouch with his acoustic, Takeshi assets himself confidently with the promise of thunderous distortion versus reserved introspection, which Drake offers on Bryter Layter.

As Akuma No Uta well-delivers its booming promise, we can readily accept Boris' pictorial tribute to Nick Drake as a noble nod to a long-lost voice. This is art instead of profit-raking.